---

FOREIGN-TRADE ZONE
---
Iron Horse received its designation as a Foreign-Trade Zone in 2014 as a magnet site of the Port of Greater Oklahoma City's Foreign-Trade Zone #106.
If you conduct international business, locating in a Foreign-Trade Zone will help you save money and take advantage of efficiencies in customs procedures. In addition to our strategic location in the geographic center of the United States, Iron Horse is ideal for businesses importing and warehousing, manufacturing or assembling with imported goods, as well as distribution centers.
Duty elimination on:
Manufacturing in the U.S. and selling domestically.
Utilizing pick-and-pack operations where the "set" has a lower duty rate than the individual pieces.
Previously Imported material, which is re-exported.
Rejected, scrapped, waste or return-to-vendor imported material.
Sales of imported materials or finished products containing imported components to companies operating in other U.S. Foreign-Trade Zones.
Selling to the government
Duty reduction on:
Duty deferral until merchandise is shipped from the Zone into customs territory.
Ability to hold most merchandise subject to quotas until the quota opens and/or ability to bring goods into the Foreign-Trade Zone and subsequently re-export them.
Increased flexibility with just-in-time delivery, quotas, and reduced customs delays.
Ability to hold merchandise in a Foreign-Trade Zone indefinitely.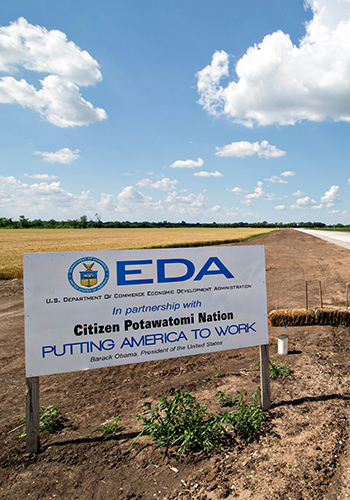 For more information, please contact Dr. James Collard at 405-275-3121 or jcollard@potawatomi.org, or contact Courtney Palmer at courtney.palmer@potawatomi.org.
Citizen Potawatomi Nation is a federally-recognized government and has inherent sovereign status recognized by treaty and federal law.
© 2017 Iron Horse Industrial Park. All rights reserved.