A lack of clarity on tax and customs rules often challenges businesses in international commerce. An Oklahoma-based firm that manufactures small components for a larger product here likely does not have a full-time staff member dedicated to the regulations required to import and export. This may cause the firm to miss growth opportunities with untapped markets and customers. Following conversations with potential investors of Iron Horse Industrial Park, a Tribal-owned site, Citizen Potawatomi Nation Economic Development and Planning Director James Collard, Ph.D., established internal experts to fill this void.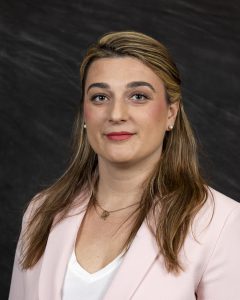 "If you're in the business of manufacturing, you probably don't have time to focus on dense regulations," Collard said. "As a good partner at CPN, we can provide someone on site to evaluate the costs and determine the best way to navigate customs at little or no cost to the manufacturer."
For all potential tenants at Iron Horse, she can offer free evaluations of the business' needs and future costs. If they locate to the industrial park, the economic development department offers an in house service of handling the company's ongoing customs paperwork for a small fee.
Collard encouraged Administrative Research Analyst Vedrana Milakovic to pursue a Customs Certification Specialist program to address this need. In August 2020, CPN received notification from the certification board that she passed the final CCS exam. It concluded a six-month online course consisting of 23 modules teaching the nuances of customs and duties through the National Customs Brokers & Forwarders Association of America.
"Each topic helped me grow and develop as an import professional," Milakovic said. "By participating in the CCS program, I learned numerous venues in improving my professional skills while continuing to stay up with the rapidly changing marketplace within the import industry."
These nuances include import and export issues, customs brokers licensing requirements and agency agreements, U.S. Harmonized Tariff Classification System, tariff treatments and trade agreements, Foreign Trade Zones, recordkeeping and much more. Starting with the initial interaction with Iron Horse, Milakovic can assess and offer solutions to save time and money for those doing business inside the park's foreign-trade zone.
"The first thing I'd ask them is where do they get their products from," she said, "because sometimes depending on the country and components those come from, by changing their supplier may help save money."
Given the current climate of an ongoing trade war between the U.S. and China, she monitors ongoing duty restrictions and costs associated with commerce in the world's preeminent manufacturing power.
"I'll look at other avenues for their products, to see if there are other suppliers in different countries that may not face import restrictions. We can also keep an eye on quotas, as some products are capped if they come from the same country. I can help identify what our tenant needs and where we can find it while saving their bottom line from tariffs," she said.
The wide array of topics that a CCS requires sometimes intimidates firms from exploring global markets for their products. Collard hopes Milakovic's expertise can be a cost-free benefit for tenants at Iron Hose. In the short and long term, her services provide cost savings for those doing business inside the industrial park's foreign trade zone. The park's first tenant, Pro Pipe USA, whose manufacturing plant will likely go online in the fall of 2020, is currently utilizing her services.
"If you have companies who have never worked in a foreign-trade zone, someone with a CCS like me is there to assist them filling out their paperwork," said Milakovic. "I work with our in-park tenants, liaise with our main FTZ site at World Rogers FTZ #106 to ensure they're in compliance with the zone's standards." For more information on the services offered at Iron Horse Industrial Park through the Citizen Potawatomi Nation Department of Economic Development and Planning, please visit ironhorsecpn.com.