Economic Development Department offers tariff paperwork expertise at Iron Horse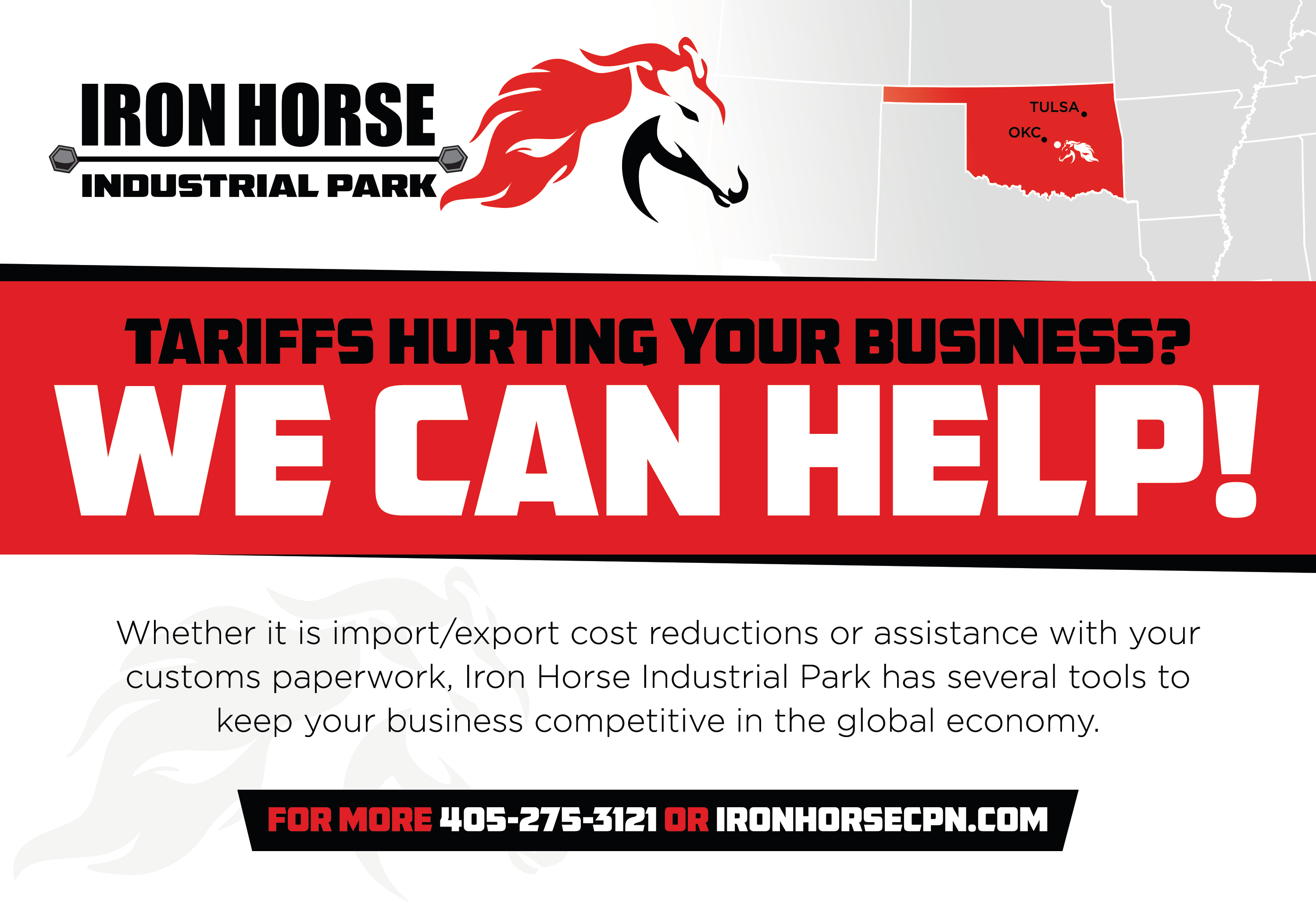 The COVID-19 pandemic will remain a challenge for the global economy. When the threat of further outbreaks subside, businesses from an array of sectors will attempt to make up for lost ground. Amidst this, Citizen Potawatomi Nation's Iron Horse Industrial Park offers significant cost-saving opportunities for those utilizing its Foreign-Trade Zone designation. In recent months, the Tribal Economic and Planning Department that oversees the project expanded its services to help customers and tenants as the global economy works past the pandemic.
"Iron Horse offers a unique opportunity for businesses trying to find a way to manage tariffs," said CPN Economic Development Director James C. Collard, Ph.D. "While the pandemic is definitely problematic for the economy, we can help companies who are tied to the global supply chain succeed in these times."
CPN Administrative Research Analyst Vedrana Milakovic spent much of the last year learning the intricacies of FTZs. In the fall of 2019, she completed the 20-hour operator's introduction course offered by the National Association of Foreign-Trade Zones. She is currently completing a Certified Customs Specialist course through the National Customs Brokers & Forwarders Association of America.
Through these and other ongoing professional development activities, Milakovic researches individual firms' needs, and finds import and export reduction costs, depending on their situation.
"When admitting goods to the Foreign-Trade Zone, there are no customs duties or federal excise tax due," Milakovic said. "Taxes and duties will apply when the goods leave Iron Horse and enter the commerce stream of the United States and only (apply) to the quantity entering."
The Tribal team can also provide companies with customs paperwork assistance who do business at Iron Horse. Milakovic offered another example of how this might apply to a firm operating inside the industrial park.
"Scraps or leftovers from the production process can be destroyed inside the FTZ with approval by the U.S customs," she said. "If customs assess no value on these byproducts, no taxes or duties are necessary. When goods leave Iron Horse and enter the U.S. commerce stream, the client at Iron Horse can choose to pay duties on either the finished product or the components, whichever is less. If they decide that they want to ship their product to another FTZ or outside the U.S., no duty rates will apply."
The Tribe's focus on diversifying into manufacturing and production-based sectors means the economic development department under Collard will continue to learn and provide the best ways to support clients of the industrial park.
"We know the challenges businesses are facing, but at Iron Horse, we believe we can help make them a little less dauting," Collard said.
To learn more about Iron Horse Industrial Park, visit ironhorsecpn.com.